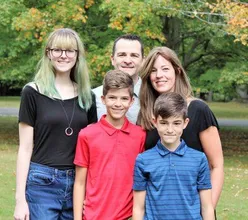 Dr. Jennifer L. Miano has been promoting healing in Bergen County since 2000. Dr. Miano is a certified specialist for Prenatal & Pediatric care, as well as classically trained in pain management and wellness for patients of all ages. Dr. Jen is here to help you feel better, reduce stress, & find balance! Hear what she has to say about Chiropractic Care during your changing stages of life.
"I love working with pregnant women and babies! There is something magical about this stage of life, and I am so passionate about helping my patients have the best experience and results.
I love working with First Time Moms so I can be their beacon of positive light & healing, and teach them about the options they have, the questions to ask, and empower them to enjoy their pregnancy, labor, and delivery.
I love working with "Repeat Moms" so I can validate their past and current experiences, and continue to support them this time around. It's often overlooked that your needs and required resources change during subsequent pregnancies and as your family grows.
I have trained extensively in the Webster Technique, which focuses on creating room in the belly for the baby to get into the optimal position for labor and delivery. In all prenatal cases, the work we do together helps our patients feel better and improve their labor and delivery outcomes!! Studies demonstrate that prenatal patients receiving regular Chiropractic Care experience shorter, less painful labors, and more efficient deliveries - as well as quicker recoveries after giving birth.
I love working with infants/babies - it's a privilege to help little ones' nervous systems normalize and properly regulate so that they feel better, cry less, and become happier. The same holds true working with children of all ages. Let's face it, when the children are more comfortable and relaxed, the entire household is calmer, happier, and less stressed.
I love working with whole families seeking wellness care. I enjoy having the whole family in together (when possible) and helping them figure out ways to tweak their routines to improve and sustain better health and wellness. I love working with families over long periods of time and "growing" together, experiencing life's milestones, being a touchpoint for them, and sharing laughter and joy when we work together during their treatments.
I enjoy helping patients seeking pain reduction/management - it's always a blessing to help people heal better, feel better, and reduce stress. I love it when these patients then choose wellness care and attend visits periodically to maintain the work they've done. I love it even more when they bring in their family and friends. The biggest compliment of all is knowing patients value our work, and trust me enough to bring in others they love to experience the wonders of healing and feeling good!"

---Dr. Jennifer L. Miano, Chiropractic Physician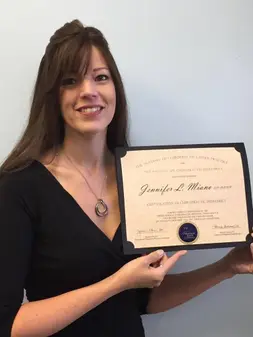 Education:
Upsala College, East Orange, NJ; Bachelor of Science
Cleveland Chiropractic College, Kansas City, MO; Doctorate of Chiropractic
International Chiropractic Pediatric Association; Webster Technique Certified
Academy of Family Practice and Council on Chiropractic Pediatrics; Chiropractic Pediatric Specialist
American Academy of Husband-Coached Childbirth, Sherman Oakes, CA; Certified Instructor
Licensure:
New Jersey State Board of Examiners
Academy of Family Practice and Council on Chiropractic Pediatrics
Certified Bradley Method Instructor
Memberships & Associations:
Association of New Jersey Chiropractors
American Chiropractic Association
International Chiropractic Pediatric Association
Waldwick Chamber of Commerce
BirthNet, A Network of Supportive Perinatal Professionals
American Academy of Husband-Coached Childbirth
La Leche League, International